Paper or Plastic? What Materials Burn in a Fire Will Determine How We Clean it Up.
8/5/2019 (Permalink)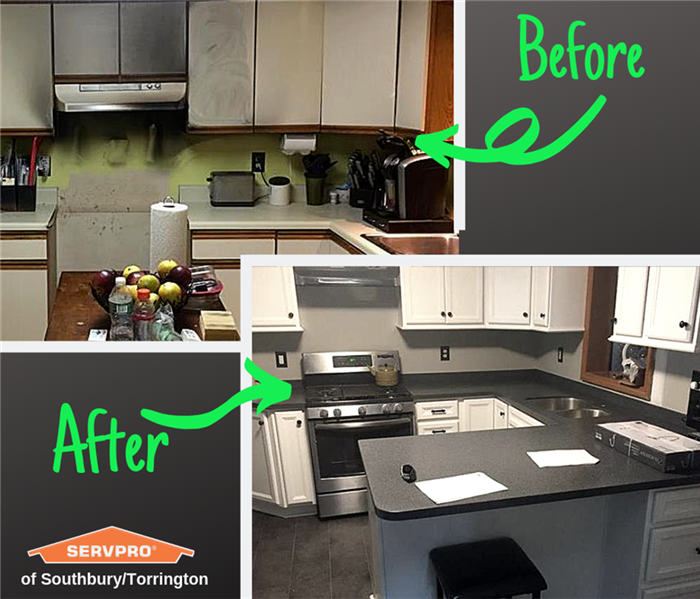 Although this kitchen does not appear to be heavily damaged after a stove fire, the smoke damage was extensive.
In many of the properties that we treat after a fire, the amount of damage is not always visible.
In fact, when you look at photos of the home or building, things might look like they are fine. However, smoke and soot residues are the hidden damage that a fire causes and often require more extensive restoration than the damage caused by the flames themselves.
There are different types of fire damage and each requires its own unique cleaning plan. The team at SERVPRO of Southbury/Torrington is trained in identifying the different types of smoke damage and how to properly treat your home accordingly.
Dry Smoke
Dry smoke damage is caused when substances such as paper and wood are the fuel for the fire. These fires are fast burning, have high temperatures and the heat rises therefore the smoke rises. Because the residue is powdery and dry, it is often simpler to clean since it is easy to wipe off. However, it can fall into cracks and porous surfaces, and while the soot may be hidden from view, the smell will remain.
Wet Smoke
Wet smoke damage typically comes from fires in which plastic, rubber and other synthetic materials have burned. These fires are a lower temperature. They can be described as having a smoldering, pungent odor and they leave a sticky and thick residue that is more difficult to remove.
Protein Residue
Protein residue is left behind after the evaporation of organic material such as food. The residue is produced by evaporation of material rather than from a fire. The residue is almost invisible however it discolors varnishes, paints, and finishes. It also gives off a strong, offensive odor that our techs know well and can easily identify. Because it is invisible to the eye, however, a homeowners might get frustrated with the pungent smell since they can't see the source.
When we inspect your fire damaged structure, we will determine which method of cleaning is required. Depending on the type of smoke damage and the surface that is affected, we may utilize the following cleaning methods to remove smoke and soot damage.
Dry Sponging
Wet Cleaning
High Efficiency Particulate Air-filtration (HEPA) Vacuuming
Thermal Fogging
We don't expect our customers to become experts in fire damage restoration however we know that a little knowledge helps you understand why we are cleaning your house in a particular way.
If you have any further questions on the smoke and soot damage restoration process, please do not hesitate to ask your Project Manager or call our office at 203) 267-6262. We're happy to answer all of your questions.