Protect Your Southbury Home From Soot and Fire Damage
10/9/2018 (Permalink)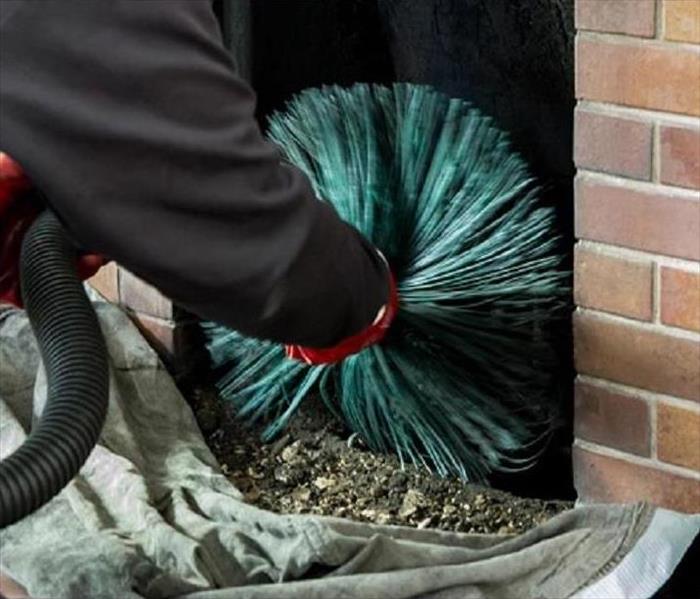 Having your chimney cleaned professionally can reduce your risk of a house fire as by removing creosote and identifying cracks in your chimney.
Most of the leaves are on the ground in Litchfield County and we've already seen some of that white stuff falling from the sky. It's time to switch gears and settle in for the long, cozy New England winter. Now is the time to take a few steps to ready your Torrington, CT home for the months to come.
Oil Burner Servicing - If you have not already done so, make an appointment to have your oil burner serviced. This is recommended on an annual basis. Having the burner tuned up and cleaned of dust and grime that has accumulated improves system efficiency, which means better heating performance and lower heating costs. It also minimizes the risk of your oil burner requiring a major emergency repair in the midst of freezing temperatures. At SERVPRO of Southbury/Torrington, we respond to many homes each winter that have water damage due to frozen pipes caused by a malfunctioning oil burner.
Wood Stove and Fireplace Cleaning - Many of our customers heat their homes with wood or pellet stoves and fireplaces throughout the Connecticut winter. These alternatives to oil heating provide what is often a more affordable source of heat. We recommend that you check your fireplace for any signs of excessive soot, cracks in the chimney and that your chimney cap is secure. Have your chimney swept annually to avoid soot buildup, or creosote. A blocked chimney can cause a chimney fire, which is not always easily detected. These can spread quickly through the walls and roof of your home and result in massive damage to your home. A blocked chimney or a chimney with an improperly functioning flue can also cause a buildup of carbon monoxide, putting those inside your home at risk.
Prepare the outside of your home - Trim trees with branches that are low laying and may be an issue when covered with snow and ice. Snow and ice causes them to be heavy and possibly cause damage to your home during winter storms. Also, check your gutters to make sure they are free of leaves and debris so that they can function properly. If ice dams on your roof have been an issue for your Sherman home in the past, consider installing roof heat cables that help snow and ice melt on your roof before causing water damage inside your home.
At SERVPRO of Southbury/Torrington, we are ready 24 hours a day to respond to your call. If you do experience a frozen pipe that bursts or a chimney fire or puffback this winter, call us at (203) 267-6262.