Scenes From Winter- Icicles can Cause Water Damage to Litchfield County Homes
2/14/2019 (Permalink)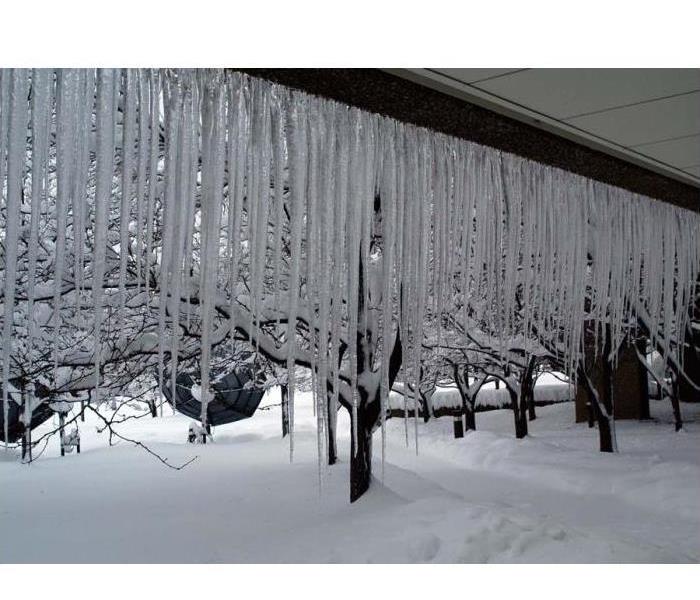 Icicles hanging off your roof can look pretty but also cause ice dams, which lead to water damage inside your home.
It can be postcard perfect - long shimmering icicles hanging from a snow covered roof of a beautiful Connecticut home.
But the reality is, snow and ice on your roof can be an indication that you might have an ice dam. Ice dams can cause damage to your roofing shingles as well as water damage to the interior of your home when they cause leaking through the roof.
Not all icicles indicate an ice dam. If icicles are simply hanging off of your gutters and don't have a block of ice trapped behind them, they have most likely not compromised the integrity of your roof. However, icicles that are hanging directly from your roof may be preventing water from draining off of the roof. This causes the water to back up under the shingles and enter your home.
In addition to inspecting your roof for ice, we recommend taking a look in your attic and the exterior walls of your house for water stains. This may be an indication that an ice dam has formed and water has penetrated the roof membrane. Of course, a sure sign that you have a roof leak from an ice dam is water dripping through your ceiling!
Ice dam prevention is straightforward.
ROOF RAKE: A roof rake can be used to gently remove the snow on the edge of your roof, up to about 3-4 feet. Use caution not to damage your roofing shingles in doing so.
CALCIUM CHLORIDE: Use a calcium chloride ice melt product to melt the ice on your roof before it causes a problem. Be sure not to use rock salt or sodium chloride, which can damage your roof. Rather than just sprinkling the calcium chloride all over, we love this trick: Fill a nylon stocking with the calcium chloride and lay it across the ice dam. This creates a channel in the ice that deters roof damage.
Never allow water damage from an ice dam to go untreated.
If you don't catch an ice dam prior to damage occurring, professional water damage mitigation is necessary. When water flows through insulation, sheetrock, and wood, it creates an environment where mold can grow hidden behind the walls.
For more information on the water damage restoration services offered by SERVPRO of Southbury/Torrington, please call us at (203) 267-6262.