When a Garaged Vehicle Catches Fire
6/6/2021 (Permalink)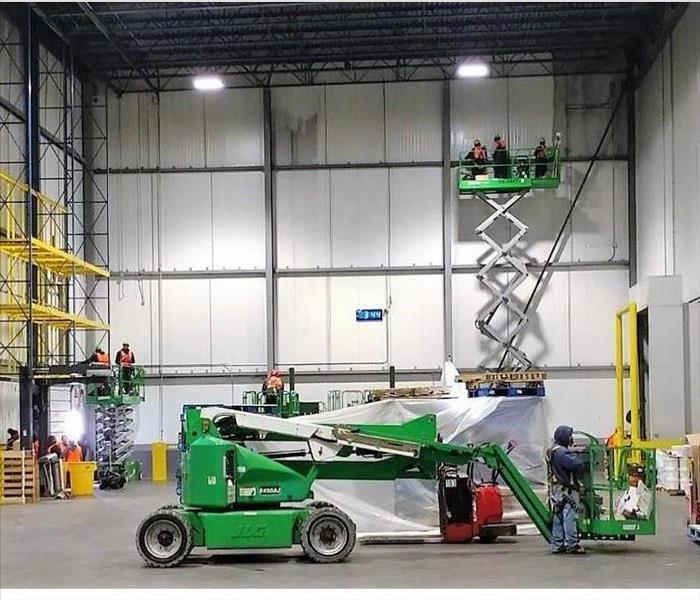 We recently had a job at a commercial property in which a truck caught fire on a loading dock, causing a massive amount of smoke and soot damage to the warehouse. It's not the first time we've restored a structure of smoke and soot after a vehicle fire. When a car or lawn tractor is parked in a garage, a small fire can turn catastrophic quickly.
Because of the abundance of fuel in a vehicle, a fire can start and spread quickly.
When the car is parked in the garage of a home or business, this can cause structural, smoke and soot damage throughout the entire building. Vehicles can catch fire for a number of reasons:
Fuel or Oil Leaks - not only will these flammable liquids stain your garage floor, parts of your car, including the exhaust system, can get hot enough to start a fire.
Corroded or cracked wiring can cause too much electrical current to be flowing through your system. One sign that this could be a problem in your vehicle is if the fuses blow more often than normal.
A hot engine, catalytic converter, brakes or exhaust system that comes into contact with a corroded wire can spark a fire as well.
Electrical Issues - Heated seats, your car battery, and the heating system can all potentially overheat. An aftermarket accessory that has been installed in your car, such as an audio system, might also cause an overload and start a fire.
Many vehicle fires can be avoided with careful maintenance and attention to leaks and old wiring however not all garage fires can be avoided. For those times, SERVPRO of Southbury/Torrington is here to help. We have extensive experience restoring homes and businesses of the smoke and soot a fire leaves.