Creosote Buildup is the Primary Cause of Chimney Fires in Harwinton Homes
12/11/2019 (Permalink)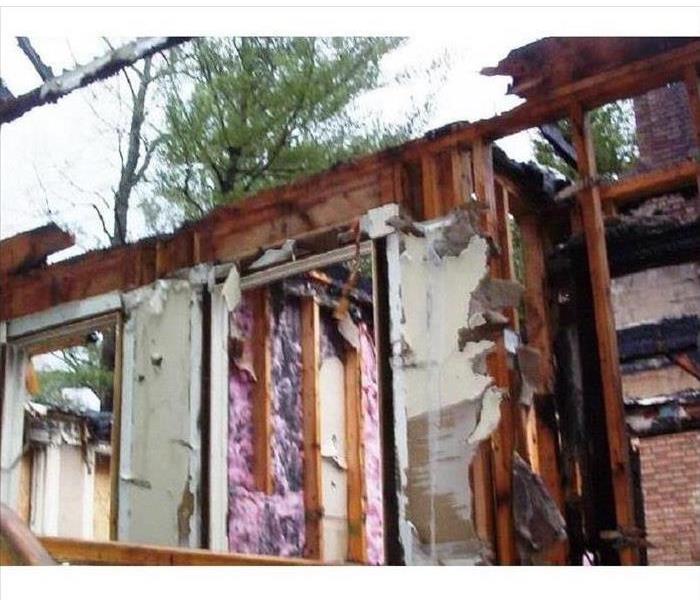 Nothing is more devastating in our work than arriving at home that has been destroyed by a fire - especially during the holiday season.
The primary cause of home fires is often a chimney fire. Every year in the United States, there are over 25,000 chimney fires, which incur $125 million-plus in property damage Flames which have migrated up the chimney cause cracking, melting and warping to the masonry or metal chimney interior and eventually spread to the rest of the home. This is often caused by a buildup of creosote.
How to Eliminate the Creosote in Your Chimney!
Creosote is a highly flammable by-product of a fire that coats chimney walls and condenses as it moves from the hot fireplace or wood stove into the cooler chimney. With a thick build up of creosote, it can catch fire in a hot chimney and move up the flue.
To reduce the amount of creosote in your chimney, pay attention to these factors:
1. Wood
Burn only seasoned hardwood that has dried for at least six months and contains a moisture content of no more than 20 percent. Unseasoned wood creates cooler smoke than seasoned wood, resulting in buildup.
2. Air Supply
Keep the damper (a metal plate in the flue that regulates the draft) open during a fire to maintain adequate airflow. Also, refrain from overstuffing the wood box, which also restricts air flow.
3. Flue Liner
The flue liner is the layer between the flue and chimney walls. If it is uninsulated, we recommend that you insulate it by either wrapping a heat-resistant insulation blanket around the liner or pouring an insulation mix like vermiculite into the space between the flue liner and flue. An insulated flue liner will prevent flue temperatures from getting too cool—a condition that could encourage fire by-products to condense and form creosote.
4. Creosote Removal Products.
As a preventative measure, you can apply a creosote remover in your fire- they come in a powdered and liquid forms as well as logs and both are simply burned in your wood stove.
Chimney fires can be prevented with regular maintenance and inspections, saving homes and lives.