Turkey Fryers Can be a Household Danger This Thanksgiving
10/25/2021 (Permalink)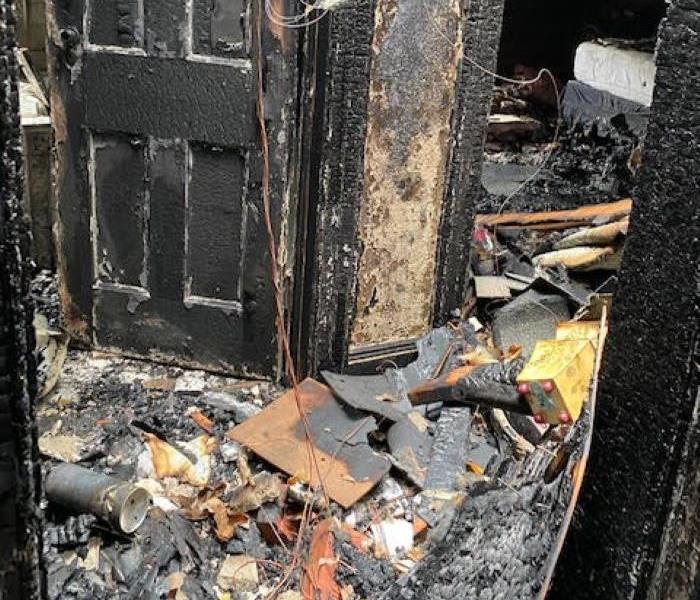 To be honest, I've never fried my Thanksgiving turkey. My family has always gone the traditional route and roasted our bird in the oven. I am tempted, however, to give it a try this year because so many people swear by how amazing and flavorful a fried turkey is.
Working in the fire damage restoration business, however, I've seen the damage a turkey fryer can do to a home. Turkey fryer fires are more common than you'd imagine and are devastating because everything surrounding the fire is engulfed in the flames.
So, why does frying a turkey carry the risk of fire?
I know. It's cold in Connecticut by the last Thursday of November and you may not want to be standing outside while the rest of the meal is cooking in the kitchen. But turkeys should ALWAYS be fried outside. Just because you've been doing it in your garage for 10 years and never had a problem doesn't mean it can't happen to you. Because the hot oil will spray everywhere when cooking, a 10' radius around the fryer is necessary. It quickly starts a fire when making contact with combustible materials, such as wood or fabric. If the oil touches bare skin, it can also cause severe burns.
One common mistake people make is using a frozen turkey. This is because when a frozen turkey is submerged into a pot of oil, the oil doesn't mix with the frozen water on the turkey. Instead, heavy pockets of water will sink to the bottom of the fryer while the oil surrounding them quickly heats it beyond its boiling point. The water then evaporates, expands, and splatters the oil everywhere, including the burner. Upon hitting the burner, the beads of oil ignite into flames that spread out in all directions. If you have marinated your turkey in a brine, make sure it is fully dry prior to putting in the oil.
Measure your oil carefully, making certain that it is 4-6" below rim after the turkey is palced in it. . When you lower the turkey in, be sure to be wearing oven mitts, long sleeves, pants, and close-toed shoes. Hot oil will stick to bare skin, causing severe burns that can result in an emergency trip to the hospital.


Even a seasoned turkey fryer can have an accident that causes disaster. The turkey can slip from your hands when lowering it into the fryer or your rope-and-pulley system could break, spilling the oil everywhere and igniting a fire. The point is that something can always go wrong when frying a turkey; therefore, you should always be prepared and have a fire extinguisher by your side at all times.
We hate to see someone's holiday ruined by a house fire due to a cooking accident. But if you do have a Thanksgiving disaster, we have teams on call 24/7 - even on the holidays and are Here to Help.