Unexpected Fire Hazards in Your Household
5/21/2019 (Permalink)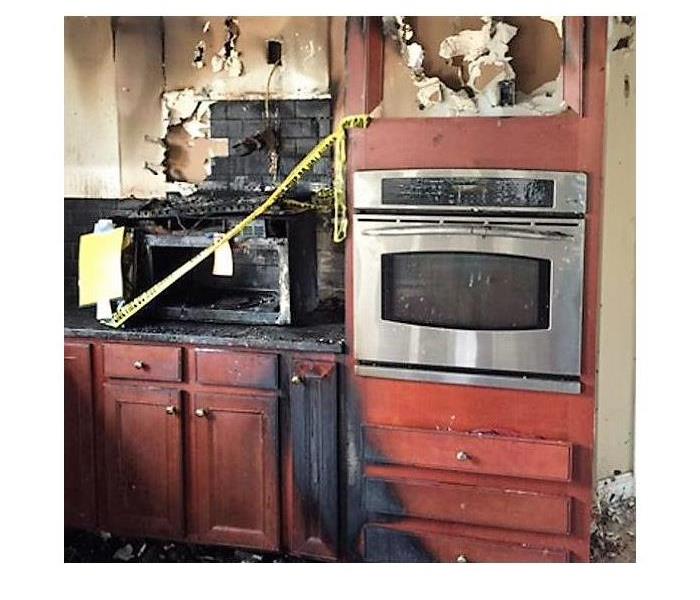 Homes with old electrical wiring.
Pots left unattended on a stovetop.
Candles accidentally tipped over.
We all know these common causes of household fires. However, there are other fire risks in your home that you may not be aware of.
Microwaves
There are a number of ways in which microwaves pose a fire risk.There might be a small amount of metal on a dish or takeout container that can result in a fire. Foods such as popcorn can easily catch fire if left in too long. If you have a fire in your microwave, turn it off immediately to prevent the fan feeding oxygen to flames and wait until it suffocates. Only open the door when you're certain the fire is extinguished.
Batteries
All batteries pose a fire risk, even those with a weak charge. However 9 volt batteries are the biggest culprit of fire due to the close proximity of their terminals, which can easily short. When left loose in a drawer or container, the batteries can spark and cause a fire. If you don't have a battery case, store batteries standing up, placing electrical tape over the ends of each battery (all types – not just 9 volts) to prevent shorts. Do not store batteries in metal containers, or near other metal items such as keys, steel wool, and aluminum foil. When discarding batteries, cover the ends with tape so that they don't start a fire in the garbage can.
Light bulbs
Using a light bulb with wattage too high for a given outlet, called overlamping, can easily result in a home fire. Determining proper wattage is easy. Simply locate the proper wattage on each fixtures outlet. If the fixture is unmarked, stay under 60 watts to be safe. Take caution when using CFLs (compact fluorescent bulbs). These spiral shaped bulbs could result in fire when improperly used. Avoid using CFLs in any lighting unit where the base of the bulb is enclosed by the fixture, such as with track and recessed lighting. If your CFLs are burning out early and you notice they are brown at the base when you remove them, the bulbs are overheating and could result in fire. Choose a cooler option, such as LED.
Laptops
Laptops can get pretty hot during normal operation. Never leave your laptop on a bed or couch, or any place where its cooling vents are blocked.
Stacks of newspaper and magazines
When left near a heat source, such as a wood stove, these items can ignite quickly. If you must keep old newspapers or magazines, be certain to store them in a cool, dry place in short stacks. It may seem a bit unlikely, but we've seen the damage having flammable clutter can do to a home.