Winter Weather Brings Mold Growth to Southbury Area Homes
12/19/2018 (Permalink)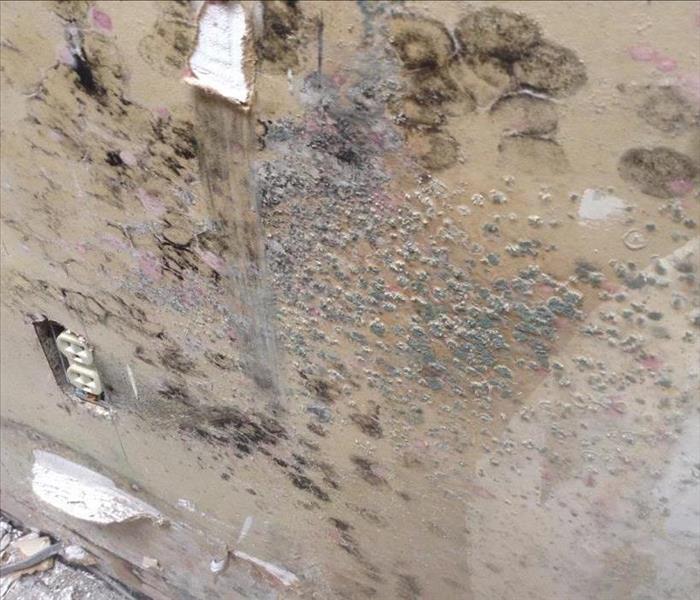 Ice dams can cause melting water to seep into ceilings and walls, creating favorable conditions for mold growth.
Winter brings snow and ice, which melt and can leak into homes, causing high levels of moisture. These conditions will lead to an increase in mold growth in homes and businesses.
Water that has leaked behind walls or seeped into basements unnoticed are often the common culprits, as is the high humidity that rainstorms bring.
There are some actions that our IICRC trained mold specialists suggest you take to reduce the likelihood of mold growing in your home.
If you have one of the beautiful old Connecticut homes that has a dirt floor crawlspace, spread a moisture barrier down on the ground. Polyethylene or roofing paper will do the trick. This will help to reduce the moisture entering your crawlspace, and mold spores from entering your home.
If there are any leaks coming from your roof and you cannot have it repaired until spring, cover it with a tarp to stop any water from entering.
To stop any water from coming into your basement, grade the ground around your foundation to slope away. This will reduce the amount of water that is standing around your foundation and it's chances of entering your home.
If you have a home that tends to get wet, be proactive after a rainstorm. Run dehumidifiers, heaters and fans in the vulnerable area if necessary.
Keep an eye on windows and pipes for condensation, which can be caused by a leak or another source of high humidity in the room.
Mold spores can grow easily and spread fast in wet weather. If you see signs of mold after a flood or water damage this winter, give us a call to come out for an inspection. Catch it before it significantly spreads and the treatment process can be done with minimal impact to your life.