Employee Spotlight: Theny Hovey and Alexis Phouadara
4/16/2019 (Permalink)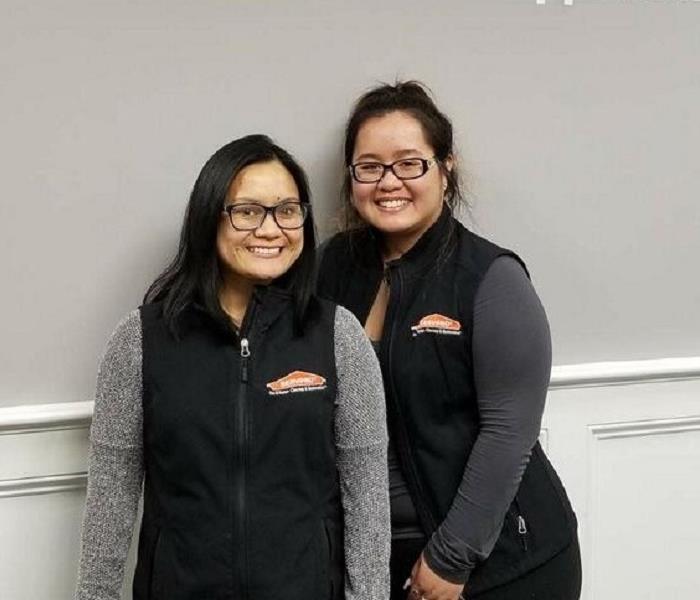 This month, we've decided to spotlight two of our employees who have really kept our office running smoothly over the past few months.
Theny and Alexis are the administrative assistants who answer the phone when you call our office. When our office manager Kathy took a temporary medical absence this winter, Alexis and Theny rose to the occasion and held everything together.
The work of an admin at SERVPRO of Southbury/Torrington requires the ability to multitask while still paying attention to each detail. Between calls from customers, contacting insurance agents, scheduling appointments as well as conveying information to the crew, our admins have their hands full. Theny and Alexis go through each day their cheerful, enthusiastic selves who are always eager to lend a hand. Whatever situation arises in the day to day business here, both of these ladies use their problem solving skills to help our customers and the team.
Theny Hovey was born and educated in the Philippines. She loves to travel and read. When asked about her work here at SERVPRO, she wrote "I'm glad to have the opportunity to work at SERVPRO on a team that is of a caring environment. What I love most about working at SERVPRO of Southbury/Torrington is being able to value work-life balance."
Alexis Phouadara has been in this industry for 4 years and is certified in Water Damage Restoration. She grew up and still currently resides in New Haven, CT. She loves collecting, doing make-up and the Golden State Warriors. Her favorite food is almost everything from her culture, Laos and Thai. Last, but not least, her favorite person in the entire world? Her 6 year old daughter, Sophia!
Thank you to Alexis and Theny for your hard work and commitment to our team. You are the glue that keeps us all together and we appreciate all that you bring to our organization.