SERVPRO of Southbury/Torrington's Response to Coronavirus in Connecticut
4/14/2020 (Permalink)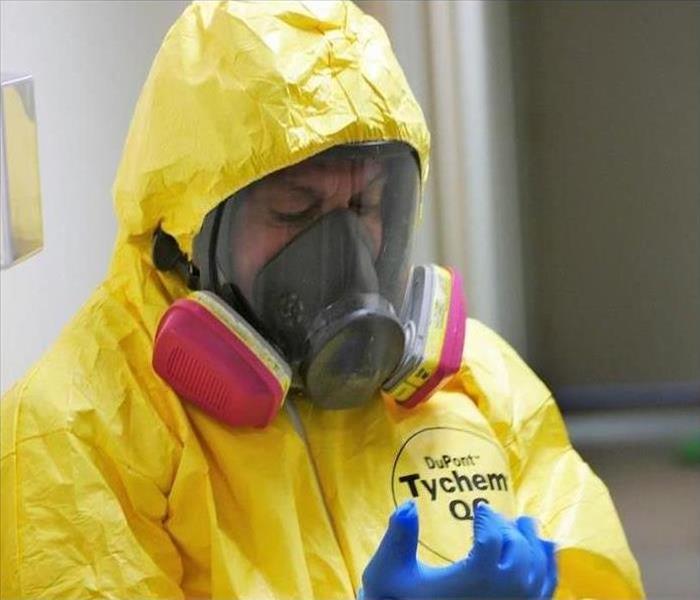 The Covid-19 pandemic has hit us all hard here in Connecticut. Our owner, staff and crew live here too and are experiencing work and school closures as well as the illness of our fellow residents alongside our neighbors. Our team has made a commitment to keep our operations going and remain available to help our customers during this time. Not only do our customers continue to need restoration after water and fire damage, they now need the cleaning and sanitization of their homes and businesses.
We've considered ways in which we can keep our crew, as well as our customers, safe during this time. When on a job, our crew will be following social distancing guidelines, keeping 6 feet away from our customers. They now wear protective gear, including masks and gloves on all jobs. Additionally, our team is wiping down all surfaces that we touch with SERVPROXIDE™, a hospital-grade disinfectant that has demonstrated effectiveness against viruses similar to SARS-CoV-2 on hard, non-porous surfaces. Currently there are no disinfectants that have been tested specifically for this particular emerging viral pathogen. However, per the CDC, this product can be used against COVID-19. In addition, SERVPROXIDE™ currently has dozens of EPA-approved claims including Feline coronavirus, Canine coronavirus, Staphylococcus (MRSA), E. coli, Salmonella, Rotavirus, Swine flu (H1N1) and more. Porous materials like carpet, rugs, upholstered items, and draperies that are not water sensitive can also be wet cleaned using SERVPROXIDE™.
We've had calls from our business and residential customers seeking coronavirus cleaning - both as a proactive measure as well as in cases where there has been a confirmed case. In response, we are offering an affordable service to disinfect structures. This consists of applying SERVPROXIDE™ via foggers to sanitize commercial and residential buildings. Please call our office at (203) 267-6262 for details and pricing on this service.
Our thoughts and prayers are with all of our friends and neighbors who have been affected by coronavirus.