Tips to Keep the Spring Thaw From Flooding Your Harwinton Home
4/10/2018 (Permalink)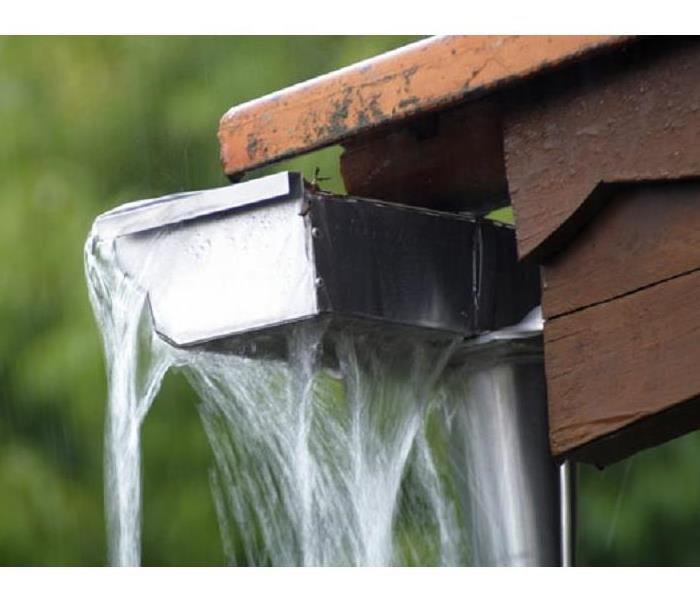 Clogged gutters will flow over the side, causing water to collect at your houses foundation. This can lead to flooding in your basement.
Although we've still seen some snowflakes coming down in the past week, I think (hope) it's safe to say that winter is finally coming to an end. With warmer temperatures coming this week, the ground is thawing out and with that, excess water will be created. Unless you have a water proof house, this could cause flood problems, particularly in your basement. We've compiled a few flood prevention tips that will help protect your home this spring. If you already have water damage at your home, contact SERVPRO of Southbury/Torrington at (203) 267-6262 for immediate water damage restoration help.
Inspect the drainage system: The drainage system on your property must be free of obstructions so the melted snow and ice will drain away from your home. Open your roof drains and make sure the floor drains of free of debris. If you have flood drains outside your home, make sure they are clear as well.
Inspect your gutters and downspouts: It's important to make sure that your downspouts and gutters are clear so that any ice and snow that is melting off of your roof has an exit point. With the winter we had, which brought high winds and snowstorms, there can be a plethora of leaves, twigs and branches blocking your gutters. This can cause water damage by allowing water to enter your home through the roof. Also, if the water cannot drain properly, it will flow over the side of your gutter instead. This causes water buildup near the foundation of your home., which can lead to flooding in your basement.
Test your sump pump: Many houses in Connecticut have sump pumps to assist in keeping the basement dry. Sump pumps are a fantastic idea but only if they are working! Our Torrington office receives several calls a year from homes in which there is water damage from sump pump failure. There are some simple steps that you can take to make sure that your sump pump is in proper working order. We recommend doing so in early spring.
It's been a long winter and we are finally coming out of it. Don't let your enjoyment of spring be hindered by a flooded basement or leaky roof. Following our tips takes just a few hours and will help prevent any melting snow and ice from entering your home. If you have water damage from flooding this spring, call the SERVPRO of Southbury/Torrington team for professional water damage restoration with experience and training you can count on.