Restoring Household Contents After Water Damage in Your Watertown, CT Home
5/6/2018 (Permalink)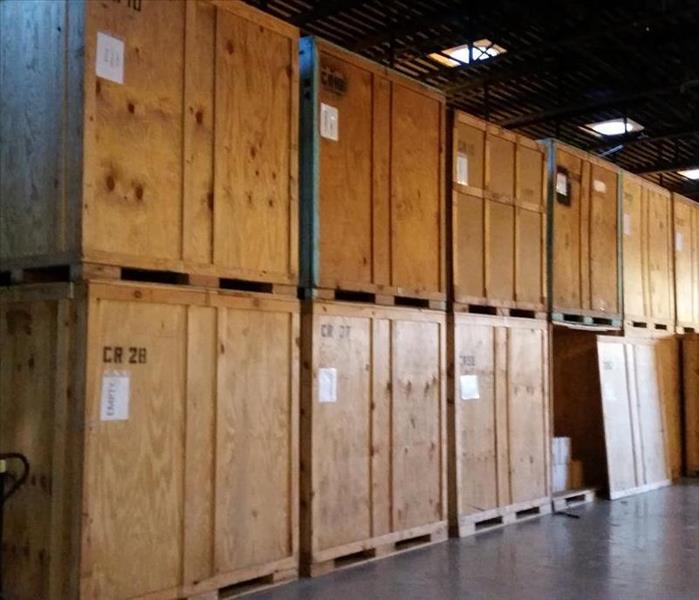 If your Southbury, CT home has extensive water damage, we may pack the contents of your home and store them safely at our facility during restoration.
When a home has water damage from a flooded basement or a pipe burst, the contents of the home can be damaged as well as the structure.
The task of sorting through a families belongings to determine what should be restored and what should be replaced can be an emotional one. The SERVPRO of Southbury/Torrington crew understands how difficult this can be and is available to help our customers in this process.
When restoring a home after water damage, we typically order a dumpster to the home in which we place damaged materials such as wet sheetrock, insulation, wood floors and carpeting that cannot be saved. As we go through the contents, there will be some pieces of furniture that clearly cannot be saved. Typically, this would be porous items such as mattresses and furniture which is made out of particle board.
If we are uncertain whether we can save a particular item, we are able to pretest them to determine whether they can be brought back to their original condition. We utilize several methods of cleaning your contents, including the following:
Dry Cleaning - Used for cleaning light residues or to pre-clean prior to wet cleaning.
Wet Cleaning - An effective cleaning method for removing moderate to heavy residues.
Spray and Wipe -Effective for items that can't withstand wet cleaning.
Foam Cleaning - Used for upholstery fabrics that might shrink or bleed if wet cleaned.
Abrasive Cleaning - Involves agitation of the surface being cleaned.
Immersion Cleaning - Contents are dipped into a bath of the cleaning product.
Our franchise offers a Contents Claim Inventory Service to our customers, which provides them a list of their belongings and their values. This helps our customers provide the needed documentation to their homeowner's insurance company to be reimbursed for damages.
As we walk through a home, a customer may identify certain items of sentimental value. We will make our best effort to restore these treasured items such as a favorite stuffed animal, a photo album or an important document. We have five options for the restoration of documents, which is dependent on the level of damage to the documents.
Air Drying
Dehumidification
Freezer Drying
Vacuum Freeze Drying
Vacuum Thermal Drying
Homes that have extensive damage may require the furnishings be removed during restoration. SERVPRO of Southbury/Torrington offers full content moving service. This includes the packing up of your belongings, transportation to our storage facility and the return of your items when restoration is complete. Not only does our pack out services help us restore your home quicker and with more ease, it also protects your belongings from further damage from moisture in the air, which can cause mold spores to grow.
The SERVPRO of Southbury/Torrington team understands that it can be difficult to part with sentimental belongings and we are diligent in our effort to restore them if possible. From our initial walk through, to the return of your belongings when the restoration is complete, our goal is to be respectful and helpful to families who are going through a difficult ordeal.