Signs of Mold Growth Behind the Walls of Your Southbury, CT Home
6/18/2018 (Permalink)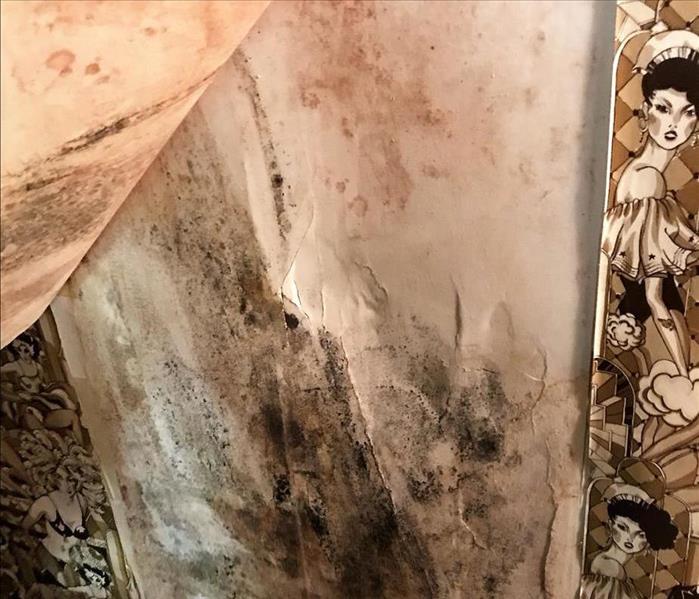 When we lifted the wallpaper in this MIlford, CT home that had water damage from a water heater that leaked, we found mold.
It's not always obvious when your home has hidden mold. Unlike water or fire damage, mold damage can occur slowly and behind the walls of your home or business.
If your home has had water damage, it is likely that mold will start to grow in your walls or ceilings within 48 hours if the water wasn't removed. Drywall in particular will absorb water like a sponge very quickly and is an ideal surface for mold to grow on. If water damage in your home has soaked into your drywall, removal of the drywall is necessary to stop the possibility of mold growth. If your home has a slow leaking pipe, it could cause moist conditions behind your walls, allowing mold to grow.
There are some signs of mold that you you should be aware of.
Damp or soft walls - Inspect your walls for any softness of the sheetrock, which could happen when it is deteriorating from the inside. Also, if your walls for damp to the touch, the cause should be determined.
Warped walls - If your walls are bulging or warped, that could indicate moisture.
Discoloration – Yellow, brown or black stains or rings on your walls are a sign of water damage from behind them.
Peeling, bubbling or cracking of paint or wallpaper. We recently restored a home that had water damage in Milford, CT. The home had a hot water heater burst in the basement and although the water damage was discovered within 2 days, mold had begun to grow behind the wallpaper.
Musty Smell - If you don't see signs of mold but you can smell it, it may be hidden in your walls. The best way to describe a mold smell is that it is very earthy, similar to rotting leaves. If you think you smell mold in your home, taking a sniff around your electrical outlets may give you an idea of whether there may be a problem behind your walls.
If you suspect that you may have mold growing behind your walls, a consultation with a professional mold removal company is recommended. SERVPRO of Southbury/Torrington is IICRC certified in mold remediation and our crew uses the highest level of tools and training to determine whether mold exists in your home and how best to treat it.